Published:
December 20th, 2019
Last modified:
September 11th, 2022
---
To honor the spirit of giving, here is a completely free piece of art that you can use and modify however you wish. Use it as an original character's reference image, use it to practice coloring, use it as a base to design clothing or accessories, go nuts. I wouldn't recommend claiming it as your own art because, well, that just isn't true and isn't very nice to do.
You can lock the transparent pixels and recolor the layers I've made, or add new ones and add new markings or design elements.
I hope this feisty, chonky little cartoon dragon serves you well!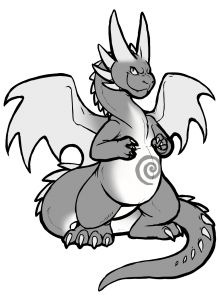 Available in both .psd (Adobe Photoshop) and .clip (CLIP STUDIO) formats
1080 x 1479 pixels at 72 DPI
9 separate layers – lineart, base color, belly color, belly swirl, wings, claws, eyes, spine spikes, horns
Transparent background
Download: Adobe Photoshop Document (.psd) 1.24MB